Family Breaks In Killarney Ireland: 7 Fun Things To Do With Kids This Summer 2022
Planning to have a memorable family getaway in Ireland this summer 2022? The town of Killarney in County Kerry, Southwestern Ireland, is one spectacular destination to consider. 
Killarney is home to Killarney National Park, the first national park in Ireland. This massive, 26,000 acre "playground" filled with scenic natural wonders and historic attractions is the perfect place to let the kids run wild. Aside from the top-rated national park, Killarney also boasts the vibrant town's rich history, cultural expreriences, and world-class hospitality. 
In this article, we'll list down 7 of the best things to do in Killarney Co. Kerry for your summer family holiday. 
1. Book a family-friendly hotel in Killarney
Not all hotels are created equal. If you're having a family trip, consider booking a hotel in Killarney that's not only comfortable and spacious but is also close to attractions you'll visit.
Your best bet is to find a hotel situated on the edge of Killarney National Park, which is just a few minutes' walk from Killarney Town Centre. By choosing a conveniently located hotel in Killarney, you can have both nature-filled experiences and culture trips at your fingertips. 
2. Let the kids run wild in the Knockreer Children's Playground
For little ones, no video game can ever beat the excitement of playing in a spacious, well-equipped playground. Knockreer playground is a nice fun park located in Port Road and is easily accessible on foot or via bike from the town centre. 
Here, you can bring a picnic and let the kids run free in a safe space, framed by greenery. Adjoining the playgrounds are playing fields that are perfect for family outdoor activities like cycling, running, kicking a ball, and playing frisbee. 
3. Take a Jaunting Car Ride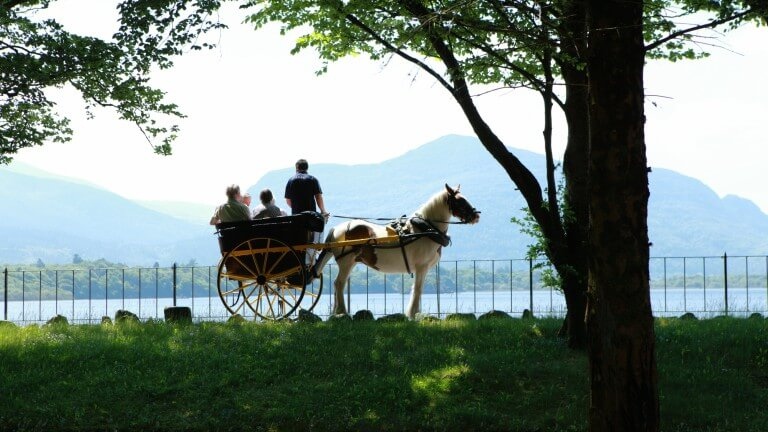 A trip to Killarney without taking a jaunting car tour is like visiting Venice without taking a canal tour on a gondola — it's not complete. 
Killarney jaunting cars are horse-drawn carriages that take you to Killarney's most beautiful hotspots. Aside from the riding experience itself, you'll enjoy the wit and charming storytelling of their local "jarveys" who'll provide you with stories of Irish legends and local history. 
4. Try riding a horse or pony
Here's another horse-riding experience but this time, you'll ride on the back of Killarney's beloved horses and channel your inner jockey. 
Killarney Riding Stables provides a 2-hour trail ride into the Killarney National Park, allowing you to take in stunning views of mountains, lakes, flora, and fauna with your four-legged companion. Of course, the tours are guided and all levels of experience are catered for. They'll provide riding hats and boots too. 
5. Spot deers in the Killarney National Park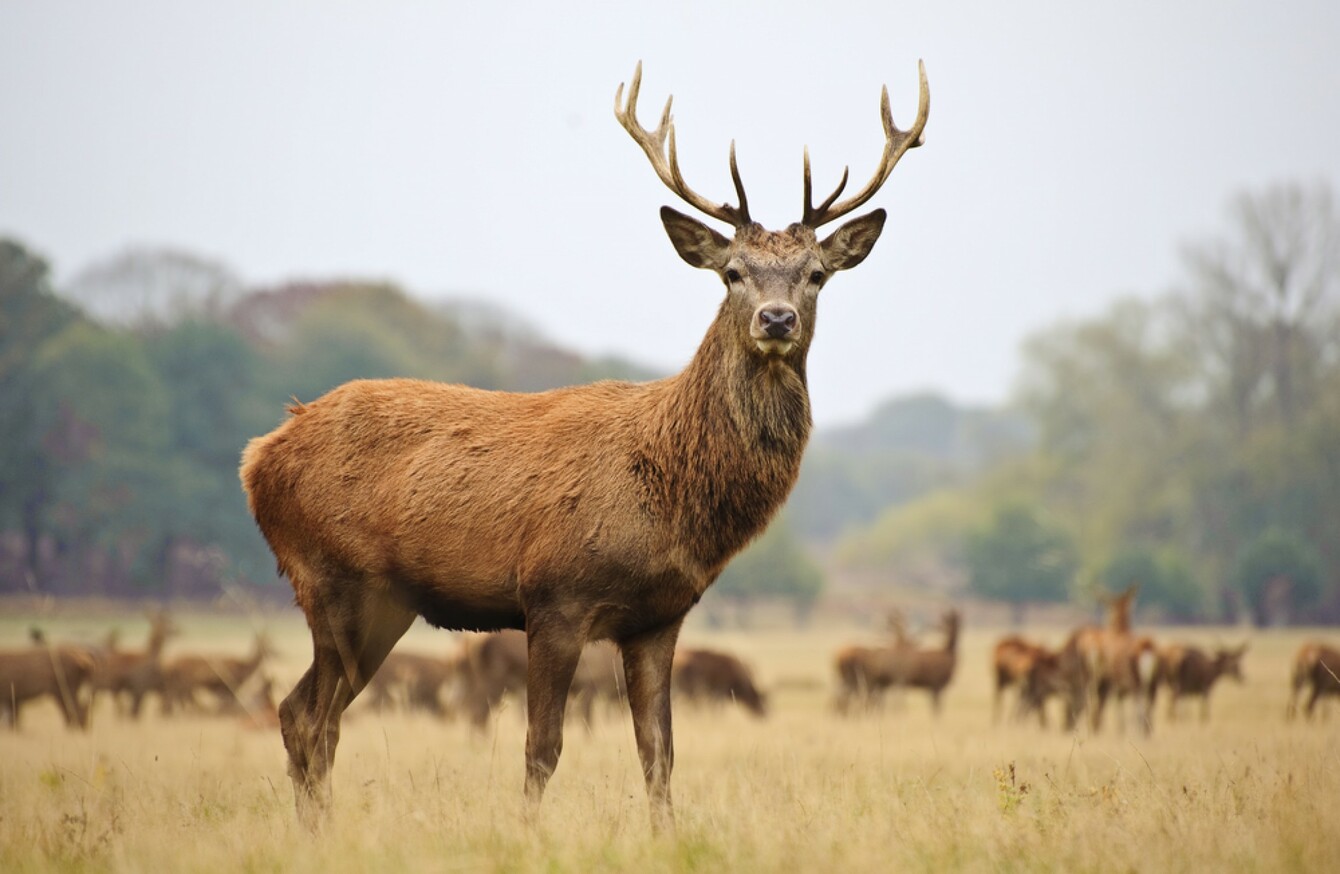 Killarney National Park provides habitat to a wide array of wild animals including otters (which are now rare in Europe), foxes, hares, red squirrels, and wild bird species. But one of the main wildlife attractions here is the herds of wild Red Deer. They're the oldest surviving deer in Ireland and have lived in the Killarney Valley since the Ice Age. 
These magnificent creatures roam the park freely, but there are some areas where you're most certain to spot them. These include the Knockreer area of the Killarney National Park or near the entrance of Muckross House and Gardens. 
6. Explore the National Park on two wheels
Aside from exploring the Killarney National Park on foot, you can also rent bikes and cycle at your leisure. With bikes, you can easily access more park attractions and landmarks, and make the most out of your family getaway. Luckily, Killarney town centre has a couple of bike rental and cycling tour companies to check out.
7. Discover The Lakes of Killarney
The lakes of Killarney, which are comprised of three lakes (Lough Leane, Muckross Lake or Middle Lake, and Upper Lake) are a scenic attraction nestled in Killarney National Park
Whether you fancy a relaxing sightseeing tour with your family or you crave a more thrilling adventure, you can experience the beautiful lakes of Killarney in different ways. 
There's a wide array of tours available for you: 
Kayak Tour – a gentle kayak tour that gives you a more up-close and personal encounter with the beautiful lakes of Killarney and its surrounding landscape. The kayak tour also offers unique insights into the incredible history of Ross Castle. 
The Gap of Dunloe Boat & Trip & Hiking Tour — more of an adventure than a tour, the Gap of Dunloe experience is a full-day escapade that encompasses a boat journey through the three lakes of Killarney and a hike through the Gap of Dunloe. 
Ross Castle Boat Tours – Not a fan of kayaking and hiking? Ross Castle Boat Tours offer a more traditional open boat trip around Killarney's picturesque lakes. Aside from seeing picturesque views while seated comfortably on your boat, you'll also be entertained by the fascinating stories shared by your friendly boatman. 
Muckross Lake Boat Tours – a scenic boat tour that departs daily from Dundag Pier in front of Muckross House. 
Lilly of Killarney Lake Tour – an extraordinary cruise along the Lough Lein, with breathtaking views of the lakes, islands, and castles of the Killarney National Park. 
Enjoy your family getaway in Killarney! 
Author Bio:  Carmina Natividad is a travel and lifestyle writer. Aside from taking vibrant street photos, you can find her writing articles about travel, food, and lifestyle. To know more about hotels and travel blogs, you may visit Cahernane House Hotel Killarney.